Cart Contents
Your cart is currently empty
Subtotal: $0.00
Categories
Bestsellers
Sale Item
Currency

Product Details
Overview
1-channel 2 AMP Solid State Relay board
Control 1 load of up to 2 amps at 120V or 240V AC. Good for lighting, Holiday displays etc. NOTE: This is an ON-OFF zero-crossing type board. It does not do dimming.
See more details, applications on our WIKI here: (under construction)
See Holiday Lights and POWER Here:
With 1 Solid State Relay: 2A at 100 to 240VAC.(50/60Hz).
(Schematic of one channel below)
Power supply:
5VDC / 160mA (all channel ON).
Input control signal voltage:
0V - 0.5V Low stage (SSR is OFF),
0.5V – 2.5V (unknown state).
2.5V - 20V High state (SSR is ON).
SSR Spec.:
Manufacturer: OMRON
Part number: G3MB-202P, 5V version.
Isolation: Phototriac.
Zero cross: Yes.
Rated output load: 2A at 100 to 240VAC.(50/60Hz).
Load type: General purpose.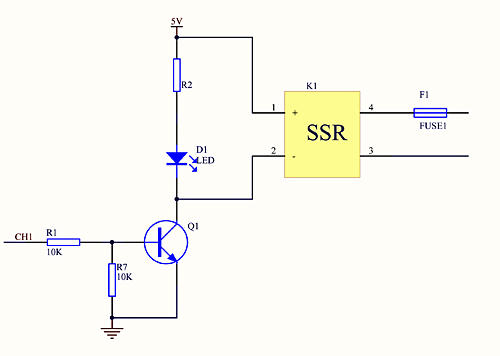 Please see this about Precautions for using Solid State Relays
Please Read This Electrical Safety / Disclaimer page before using the relay board in this product.
Tell a Friend